Insider trading crackdown: US alleges scam by hedge fund managers
Insider trading: Three fund managers and an analyst are charged with an alleged insider trading scam that netted $30 million. The US crackdown on insider trading at Wall Street hedge funds was first revealed last fall.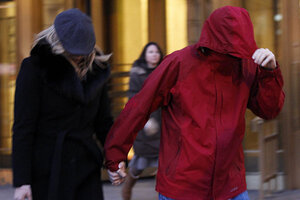 Brendan McDermid/Reuters
Continuing a crackdown on insider trading on Wall Street, federal officials on Tuesday announced charges against three hedge fund managers and a research analyst in a scam that investigators say netted $30 million.
Samir Barai and Donald Longueuil, both former hedge fund managers, were charged on Tuesday and made initial appearances in federal court in Manhattan. They face multiple charges of insider trading and obstruction of justice.
The two others, research analyst Jason Pflaum and portfolio manager Noah Freeman, had already pled guilty to a single count of conspiracy to commit securities fraud. Officials revealed that both men had been secretly cooperating with authorities in a deal for leniency.
RELATED: Top 10 insider trading truths – a reprise
"The complaint unsealed today is a sad chronicle not only of criminal conduct but also its brazen cover-up," US Attorney Preet Bharara said in a statement. "The lengths to which two of these defendants went to cover up their tracks sounds like something from a bad movie."
---