Muslim group sues FBI over surveillance at California mosques
Council on American-Islamic Relations and ACLU say a paid FBI informant violated the First Amendment rights of worshipers at several California mosques, targeting the most devout. They sued the FBI Wednesday.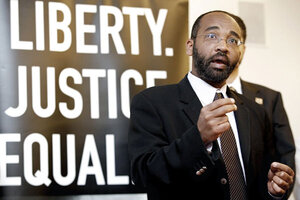 Damian Dovarganes/AP
In a case that could test law enforcement's ability to identify and monitor potential terrorists inside the United States, an Islamic organization has sued the FBI for the actions of a paid spy who infiltrated several Orange County mosques in California in the mid-2000s.
The American Civil Liberties Union and the Council on American-Islamic Relations allege in the lawsuit, filed in Los Angeles, that a paid informant named Keith Monteilh violated the First Amendment rights of hundreds of Muslim worshipers when he performed "indiscriminate surveillance" on "people who were more devout in their religious practice, irrespective of whether any particular individual was believed to be involved in criminal activity."
The FBI responded that it doesn't ask its informants or agents to target people for their religious affiliations, and maintains it has done a good job of balancing civil liberties with its ongoing antiterrorism work.
Nevertheless, the case threatens to erode already-tenuous relationships between law enforcement and the broader American Muslim community, which has the best potential to spot suspicious behavior in its midst. That ability – and willingness – was illustrated in this case.
---