Judge chides Obama for ignoring health-care ruling, urges fast-track appeal
Judge Roger Vinson has agreed to stay his January ruling that Obama's health-care reform law is unconstitutional – but only if the administration fast-tracks an appeal, possibly directly to the Supreme Court.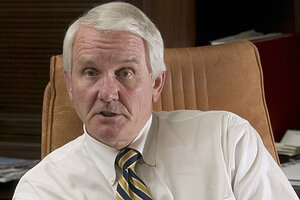 Tony Giberson / The Pensacola News Journal / AP / File
The federal judge in Florida who struck down President Obama's health-care reform law a month ago issued a stay of that order on Thursday – while insisting that the government launch a fast-track appeal.
In a tartly-worded order, Senior US District Judge Roger Vinson issued the stay under the condition that government lawyers seek an expedited appeal of Vinson's ruling within seven days either to the 11th US Circuit Court of Appeals in Atlanta or directly to the US Supreme Court.
"Almost everyone agrees that the constitutionality of the act is an issue that will ultimately have to be decided by the Supreme Court of the United States," Judge Vinson said. "It is very important to everyone in this country that this case move forward as soon as practically possible."
Judge Vinson became the second federal judge to strike down a key portion of President Obama's Affordable Care Act. In a Jan. 31 decision, Vinson declared that Congress exceeded its authority under the Constitution's commerce clause by requiring every American to purchase a government-approved level of private health insurance.
But the judge went further. He also ruled that since the so-called individual mandate was the centerpiece of the entire reform effort, all 450 provisions in the law must also be rendered void as well.
---