Defense of Marriage Act: Will it go the way of 'don't ask, don't tell'?
Answering Obama's call, lawmakers in the House and Senate seek to repeal the Defense of Marriage Act, bringing the battle over same-sex marriage to all three branches of government.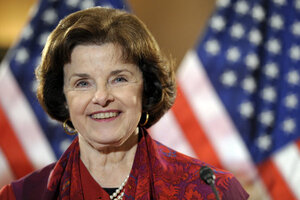 Cliff Owen/AP
All three branches of the federal government are now fully engaged in an escalating battle over the future of same-sex marriage in the US.
Three weeks ago President Obama urged Congress to repeal the federal Defense of Marriage Act (DOMA) after concluding that the law is unconstitutional. In response, more than 100 members of the House of Representative on Wednesday introduced a bill to repeal the 1996 ban on federal recognition of same-sex marriage.
A similar measure was introduced Wednesday in the Senate by Dianne Feinstein (D) of California and 18 cosponsors.
How much do you know about the US Constitution? A quiz.
"The time has come for the federal government to recognize that every American family deserves all of the legal protections afforded to couples who are married under state law," said Sen. Patrick Leahy (D) of Vermont. "This is a question of basic civil rights."
While the previous Congress voted to repeal the military's "don't ask, don't tell" policy banning gay men and women from serving openly, the current Congress is unlikely to do the same with DOMA. But that didn't dampen the enthusiasm of repeal advocates.
---