Feds slam New Orleans police over excessive force, racial profiling
New Orleans police officers used excessive force, failed to investigate crimes against women and gays, and engaged in racial profiling, the US Justice Department says in a scathing report.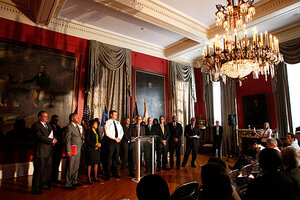 AP
Long synonymous with corruption, the New Orleans Police Department received a scathing review by the US Department of Justice Thursday, which detailed a litany of police abuses that DOJ investigators deemed commonplace enough to be considered institutional.
They range from officers using unjustified force, failing to investigate crimes against women and gays, underreporting crimes, and engaging in racial profiling of young black males – putting the city's police force near the top of the list of America's most troubled law enforcement agencies.
"New Orleans has every issue that has existed in our practice to date, and a few that we hadn't encountered," said Thomas Perez, assistant attorney general for the Justice Department's civil rights division, in a Thursday press conference.
IN PICTURES: New Orleans five years after Katrina
In addition to issuing the report, the Justice Department said that, under terms of a new consent decree, a federal judge will for the first time have oversight of the NOPD, in a bid to force better compliance with policing standards.
---