Fearing for his life, cop killer suspect demands TV coverage of surrender
Jamie Hood, suspected of killing one police officer and wounding another, freed hostages and surrendered after a standoff. His demand for TV coverage shows heightened tensions between police and criminals.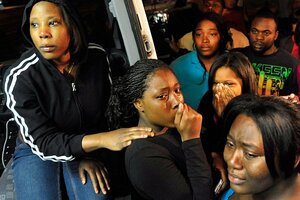 Richard Hamm/Athens Banner-Herald/AP
The death of Jamie Hood's brother to a police bullet in 2001 and Mr. Hood's dramatic surrender Friday in Athens, Ga., after a four-hour hostage standoff offers a provocative -- and personal -- timeline of rising tensions between police and street criminals in the last decade, leading to more bloodshed on the beat even as violent crime overall has decreased.
After being approached by two Athens-Clarke County police officers investigating a carjacking, Mr. Hood allegedly opened fire and escaped, leaving one officer dead and another seriously injured. Police tracked Hood to an apartment on Friday after he reached out to police to begin negotiating his surrender.
As he held eight women and children hostage, Hood demanded that TV cameras cover the surrender since he was afraid he'd be gunned down by police. Earlier in the evening, Georgia Bureau of Investigation director Vernon Keenan had said, in a message directed at Hood, that he "would not be harmed in any form or fashion."
The drama in Athens unfolded at a time when many US police experts believe that there's a brewing "war on cops," given a spike in the number of police officers killed in shootouts over the past 18 months. That trend accompanies a rise in the number of justified homicides by police, where the use of deadly force was found to be reasonable and lawful.
---