Why sharply divided Supreme Court may strike down Arizona campaign-finance law
The Supreme Court heard arguments Monday challenging an Arizona campaign-finance law that tries to guarantee competitive races. The court appeared split on the case.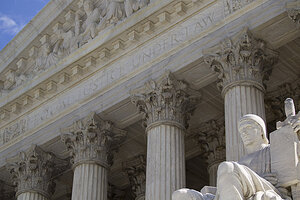 Evan Vucci / AP / File
A sharply divided US Supreme Court on Monday appeared prepared to strike down a key portion of Arizona's system of public financing for elections –potentially dealing another major blow to campaign finance reform advocates.
The case, Arizona Free Enterprise Club v. Bennett, examines an Arizona law that provides public funding for political candidates. At issue is the provision providing matching funds to publicly-funded candidates. These candidates get dollar-for-dollar taxpayer funding equal to the campaign spending of any political opponents who choose to rely on private campaign donations.
The Arizona system is designed to encourage candidates for statewide office to reject traditional, private fund-raising efforts, in favor of a government-funded option. Under the public option, candidates who obtain a certain number of $5 donations are deemed qualified for an "initial grant" of campaign funds. No one is challenging the constitutionality of that portion of the state law.
The controversial part of the law involves the allocation of matching funds. Under the law, whenever a candidate who rejected the government-funded option spends more than that initial grant, all government-funded candidates are eligible to receive a dollar-for-dollar match, to ensure the political campaign remains competitive.
Privately-funded candidates must abide by campaign contribution and disclosure limits, but are permitted to raise and spend unlimited amounts in their campaigns. In contrast, government-funded candidates are limited to spending three times the initial grant amount.
Arguments before the Supreme Court
"This case is not about whether the State of Arizona may provide campaign financing using public funds," William Maurer, a lawyer for candidates and groups challenging the law, told the justices.
---