In abrupt reversal, 9/11 suspects to get Guantánamo military tribunals
The Obama administration had wanted to try Khalid Sheikh Mohammed and other 9/11 suspects in a civilian court in New York. It abandoned that plan Monday in favor of military tribunals.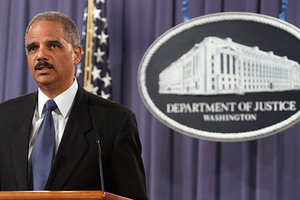 Jacquelyn Martin/AP
In an abrupt reversal, US Attorney General Eric Holder has decided that alleged 9/11 mastermind Khalid Sheikh Mohammed will not be tried in a civilian federal court in the US, but instead will face justice before a special military tribunal at Guantánamo Bay.
Mr. Holder made the announcement in a press conference in Washington on Monday, the same day the president announced his reelection campaign.
Holder said the massive, high-profile terror conspiracy case was being turned over to Defense Department officials by prosecutors in New York City.
Holder spoke with a tone of resignation, acknowledging that the administration's hands had been effectively tied by members of Congress opposed to any transfer of Guantánamo detainees to the US.
"Sadly, this case has been marked by needless controversy since the beginning," Holder said. "The prosecution of Khalid Sheikh Mohammed and his co-conspirators should never have been about settling ideological arguments or scoring political points."
In November 2009, Holder conducted a similar press conference to announce that Mr. Mohammed and four co-conspirators would be tried in a federal court in New York City. But the Obama administration faced substantial pushback from citizens and leaders in New York who were concerned that a major terror trial might spark a new round of deadly attacks.
---