YouTube death threat against Rep. Eric Cantor nets two-year prison term
Norman LeBoon, the man who admitted to posting a death threat against Rep. Eric Cantor on YouTube, received a two-year prison sentence Thursday.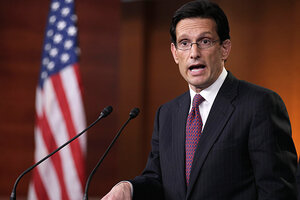 Carolyn Kaster/AP
A Philadelphia man was sentenced on Thursday to two years in prison for making threats on a YouTube video against Eric Cantor, a Jewish US congressman from Virginia, and members of his family.
Norman LeBoon pleaded guilty in November to making the threats. He admitted that he used his cell phone camera and computer to record the threats and then posted the resulting video on YouTube on March 26, 2010.
Federal prosecutors characterized Mr. LeBoon's video statement as "extremely disturbing."
Although the First Amendment protects free speech in general, it is a well established crime to make threats of violence against the president, members of Congress, or other government officials.
The issue has come into sharp focus with what some analysts say is an escalation of hostile political rhetoric among elected officials, party operatives, and television pundits. Those dangers were underscored with January's mass shooting and attempted assassination of US Rep. Gabrielle Giffords by a constituent whose mental state is in question.
---