Winklevoss twins fraud case: Is 'Social Network' saga finally over?
Winklevoss twins lawyers argued that the twins' settlement with Facebook founder Mark Zuckerberg – chronicled in 'The Social Network' – was fraudulent. An appeals court disagreed, but the Winklevoss twins vow to fight on.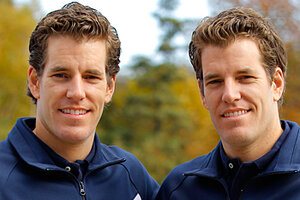 Adam Hunger/Reuters/File
The real-life dispute at the center of last year's Oscar award-winning film, "The Social Network," moved a step closer to legal resolution Monday.
A three-judge panel of the Ninth Circuit Court of Appeals ruled that a 2008 settlement deal between Facebook founder Mark Zuckerberg and Olympic rowing twins Cameron and Tyler Winklevoss is valid.
The Winklevoss twins had accused Mr. Zuckerberg of stealing their idea for their social networking site, ConnectU, and turning it into Facebook. The settlement reportedly gave the Winklevoss twins and a colleague shares in Facebook. Lawyers for ConnectU have since argued that the Winklevosses were fraudulently misled about the value of Facebook and that crucial details were omitted from the settlement.
The Ninth Circuit disagreed Monday. The twins have indicated they will file for "en banc" review – an attempt to have the full court rule on the case. But most legal analysts expect the ruling to stand, particularly since the three-judge panel was unanimous.
"Rarely does any court of appeals grant a rehearing by a greater number of judges if there has been no dissent in the decision below," says Doug Mirell, a partner at the Los Angeles offices of Loeb & Loeb, a national firm.
---