DOMA: Was the Obama administration only pretending to defend it?
A conservative legal scholar, testifying to a House subcommittee, says the Justice Department sowed the seeds for the demise of the Defense of Marriage Act even as it publicly defended it.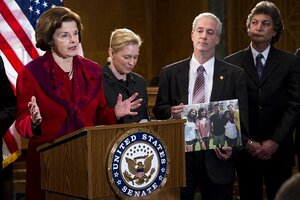 Newscom
A conservative legal scholar told members of Congress on Friday that the Obama administration engaged in a two-year charade, pretending publicly to defend the 1996 Defense of Marriage Act while quietly planting seeds for its demise.
Edward Whelan, president of the Ethics and Public Policy Center, made the comments in testimony before the House Judiciary Subcommittee on the Constitution.
He said in 2009 the Justice Department watered down its legal argument in defense of DOMA in a California case challenging its constitutionality. Whelan said the change was made after gay rights activists complained to the White House about the tough position the Obama administration had staked out in the case.
How much do you know about the US Constitution? A quiz.
"The Department of Justice has only been pretending to defend the Defense of Marriage Act while it has actively been working to sabotage it," Mr. Whelan said.
Friday's hearing was called as part of a Congressional examination of Attorney General Eric Holder's announcement in February that Justice Department lawyers would no longer defend DOMA in legal challenges.
---