Supreme Court wary of empowering judges to order greenhouse gas cuts
A lawsuit asking a federal judge to order big power companies to cut greenhouse gases, because the emissions are a public nuisance, got a skeptical reception Tuesday at the Supreme Court.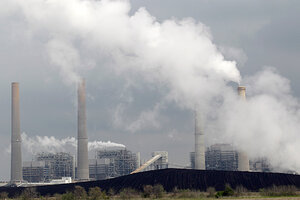 David J. Phillip/AP
The US Supreme Court on Tuesday cast a skeptical eye toward a ground-breaking environmental case that seeks to use public nuisance law as a way to force five major power companies to reduce their emissions of greenhouse gases in the fight against global warming.
In questions from the bench during an extended 80-minute oral argument session, many of the justices expressed concern about using the judiciary to by-pass the approach to greenhouse gases embraced by the Environmental Protection Agency (EPA) and Congress.
Chief Justice John Roberts said litigation against major power companies over global warming raises a wide variety of policy issues, including questions about the potential cost to the US and world economies.
"The whole problem of dealing with global warming is that there are costs and benefits on both sides, and you have to determine how much you want to readjust the world economy to address global warming," Chief Justice Roberts said. "I think that's a pretty big burden to impose on a district court judge."
---
Follow Stories Like This
Get the Monitor stories you care about delivered to your inbox.