Alleged 'WikiLeaker' Bradley Manning sent to less restrictive prison
Under pressure from human rights groups, the Defense Department moved Bradley Manning, charged with giving classified documents to WikiLeaks, to the Fort Leavenworth military prison in Kansas.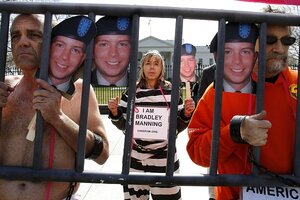 AP Photo
Under pressure from Amnesty International and other human rights groups, the Defense Department has moved Bradley Manning – alleged to have provided Wikileaks with confidential material – from the Marine Corps brig at Quantico, Va., to a less restrictive military prison in Leavenworth, Kan. There, he'll have a larger cell, plus several hours a day with the rest of the prison population for exercise, meals, and other activities.
The Pentagon and the Obama administration had come under increasing fire for Manning's being held in isolated confinement for more than nine months without trial, a controversy which cost the State Department spokesman his job.
Manning is a US Army Private First Class charged with providing thousands of classified documents – many of them diplomatically embarrassing – to WikiLeaks. To some he is a traitor, to others a whistle-blowing hero.
---