At Supreme Court, another ruling in favor of corporations, critics say
The Supreme Court's 5-to-4 decision is a victory for business groups that favor tough enforcement of arbitration agreements. Critics say it puts the rights of corporations over individuals.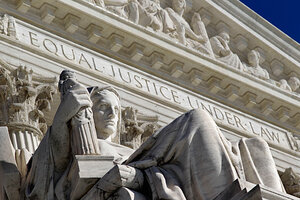 J. Scott Applewhite/AP/File
The US Supreme Court on Wednesday embraced a strict reading of a federal arbitration law, making it more difficult for individuals with small claims to join together in a class action against large companies accused of fraud or other wrongdoing.
The 5-to-4 decision is a victory for corporations and business groups that favor tough enforcement of arbitration agreements as a more efficient means of resolving disputes than reliance on an overburdened, expensive, and sometimes unpredictable court system.
Analysts say the decision provides a blueprint for businesses and corporations to avoid class-action liability by requiring customers, employees, and others to sign arbitration agreements barring class actions.
"Today's decision reduces corporate accountability by making it impractical, if not impossible, for consumers to hold corporations accountable for their wrongdoing," said class action attorney Mark Rifkin of the New York law firm Wolf Haderstein Adler Freeman & Herz.
The decision "continues a disturbing trend favoring large public companies at the expense of individuals," he said in a statement.
Doug Kendall, president of the Constitutional Accountability Center, denounced the ruling as "judicial policymaking in its most naked form."
The facts of the case
The decision stems from the case of Vincent and Liza Concepcion. In 2002, the couple entered an agreement with AT&T Mobility for cell phone service.
The contract included a requirement that any disputes be submitted to arbitration on an individual basis (rather than as a class action).
---