Supreme Court steps into White House-Congress feud over Jerusalem status
A US couple wants their son's birthplace to be listed as 'Jerusalem, Israel' – and a law of Congress grants that right. But 60 years of US diplomatic protocol call for less specificity about the city. Supreme Court will take up the case.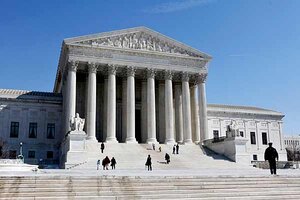 J. Scott Applewhite/AP/File
The US Supreme Court agreed Monday to take up a case that could greatly complicate the delicate Middle East peace process in a legal challenge to the US State Department's policy of neutrality over the disputed status of Jerusalem.
The case arises out of a clash between Congress and the White House over which branch of government is empowered to decide how best to conduct sensitive issues of diplomacy overseas.
In addition to fundamental questions concerning the separation of powers within the US government, the case involves an example of the president issuing a signing statement announcing his intent not to enforce a portion of a law passed by Congress.
At the center of the case is the thorny question of how to record the birth of a child to American citizens when the happy event takes place in Jerusalem.
When a child is born to American citizens in Jerusalem, US government protocol is to list the place of birth as simply "Jerusalem."
It is done for diplomatic reasons, to avoid having to take sides between competing Arab and Israeli claims to the holy city.
Congress, on the other hand, has eschewed such diplomatic niceties. In September 2002, it passed a law directing the State Department – whenever requested – to record a birth in Jerusalem as having taken place in "Israel." The congressional action sparked protests and condemnation in the Middle East among those who interpreted the new law as a shift from a long-held US position.
---