Did harsh interrogation tactics help US find Osama bin Laden?
Many Bush administration officials say yes. Obama officials say there was a 'mosaic of sources' that led to Osama bin Laden – no single confession. Documents offer some insight into who said what – and how they were treated.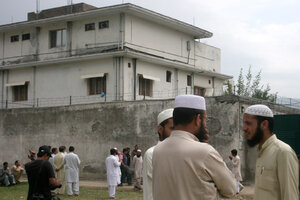 Aqeel Ahmed/AP
How did the US intelligence community get the information that led American commandos Sunday night to Osama bin Laden's walled compound in Abbottabad, Pakistan?
The question is at the core of a rekindled debate over the value of harsh interrogation tactics authorized under President George W. Bush.
Claiming vindication, former Bush officials say the information gleaned years ago from the harsh techniques bore fruit. But members of the Obama administration are downplaying its importance, pointing instead to patient analysis.
"There is no single piece of information, beyond the location of the compound where Osama Bin Laden was hiding out, that was incontrovertibly critical to the success of this operation," White House Spokesman Jay Carney said on Wednesday.
Given the murky and subjective nature of intelligence gathering and analysis, however, it is a debate that is unlikely to end with a definitive resolution.
---