Appeals court: Is health-care reform like broccoli?
Attorneys challenging Obama's health-care reform law said that Congress cannot 'force us to buy a private product and say it is for our own good,' whether health insurance or broccoli.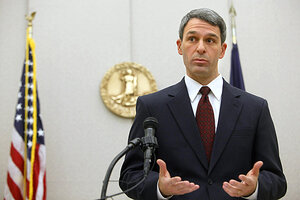 Alexa Welch Edlund / Richmond Times-Dispatch / AP
The Obama administration faced a mostly-friendly federal appeals court panel on Tuesday while urging the judges to uphold the constitutionality of President Obama's health care reform law.
The three judges, two Obama appointees and a Clinton appointee, engaged in an active and probing examination of a pair of lawsuits charging that Congress overstepped its authority under the Constitution's commerce clause when it passed the Patient Protection and Affordable Care Act.
The controversial health care law includes the requirement that all Americans purchase a government-approved level of health insurance or pay a fine.
Acting US Solicitor General Neal Katyal defended the health-care mandate as an expense all Americans would incur anyway. "We can't know when we might be hit by a bus or struck with cancer," Mr. Katyal told the judges. Everyone in the US at some point will require medical care, Katyal argued.
At a press conference after the hearing, Virginia Attorney General Kenneth Cuccinelli, who argued against the law, said that his argument was ultimately about liberty, not health care. "The federal government argued in court today that it should have unlimited authority in your lives, including the authority to regulate – i.e., dictate – your decisions, not merely your actions."
---
Follow Stories Like This
Get the Monitor stories you care about delivered to your inbox.