Supreme Court orders California to slash prison population by more than 30,000
In a 5-to-4 ruling, the Supreme Court says severe overcrowding in the prisons violates the Eighth Amendment ban on cruel and unusual punishment. A minority opinion offers a sharp dissent.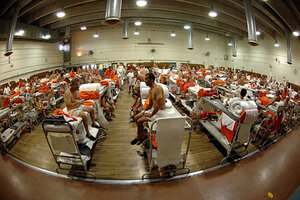 California Department of Corrections/AP/File
A sharply divided US Supreme Court ordered California Monday to reduce its prison population by more than 30,000 inmates, nearly a quarter of those incarcerated, saying the overcrowding in the state's prisons violates the Eighth Amendment ban on cruel and unusual punishment.
The 5-to-4 ruling in the case, Brown v. Plata, upheld a ruling from a three-judge panel in California that called for the state to release between 38,000 and 46,000 inmates to attain a population of 110,000, still more than 137 percent of the system's capacity. Since that panel's 2009 ruling, California has transferred 9,000 prisoners to county jails.
Deficiencies in California's prison system have led to "needless suffering and death," said Justice Anthony Kennedy, writing for the majority. "After years of litigation, it became apparent that a remedy for the constitutional violations would not be effective absent a reduction in the prison system population."
Accompanying Justice Kennedy's opinion was an appendix showing three pictures of the overcrowded facilities.
Critics of California's prison system contend the cells are so overrun with inmates that proper care has been decimated. Kennedy cited examples of prisoners with physical or mental health needs having to wait months for inadequate care. One was an inmate who was held for nearly 24 hours in a cage and standing in a pool of his own urine. Others died while seeking medical attention that was seemingly delayed because of the backlog of cases.
"If a prison deprives prisoners of basic sustenance, including adequate medical care, the courts have a responsibility to remedy the resulting Eighth Amendment violation," Kennedy wrote. Joining Kennedy's opinion were Justices Ruth Bader Ginsburg, Sonia Sotomayor, Elena Kagan, and Stephen Breyer.
---