Jared Loughner: How to tell if shooting suspect is fit to stand trial?
The accused gunman in January's Tucson rampage showed signs of mental instability before the shooting. But his competence to stand trial is a different matter than whether he is mentally ill.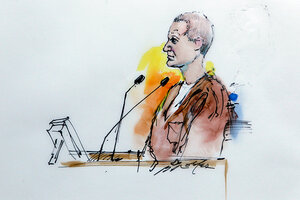 Bill Robles/AP
Is Jared Loughner, the accused shooter in the Jan. 8 rampage in Tucson, Ariz., that left six dead and 13 wounded, fit to stand trial?
His mental competency is the subject of a hearing Wednesday in federal court here, where a judge will consider written reports from two forensic mental-health professionals who evaluated Mr. Loughner at a US prison complex in Missouri. Loughner, now back in Arizona, faces charges stemming from a shooting spree at a political meet-and-greet event for US Rep. Gabrielle Giffords, who was seriously injured in the attack.
But psychologist Christina Pietz and psychiatrist Matthew Carroll are not expected to testify. The prosecution and defense have agreed to rely on the doctors' written reports, a move that suggests to some experts that the evaluators probably came to the same conclusion about Loughner's mental competency.
"Usually if there's more than one evaluator and they agree, the judge almost without exception will simply rule in accordance with their recommendations," says Joel Dvoskin, a forensic psychologist at the University of Arizona College of Medicine in Tucson.
---