Iraqi refugees in Kentucky charged with planning to help arm Al Qaeda
Two Iraqi refugees who came to the US in 2009 have been charged with plotting to send Stinger missiles to Al Qaeda in Iraq.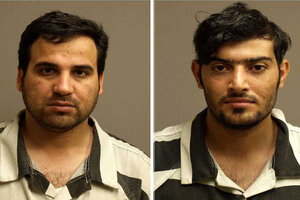 U.S. Marshals Service via The Courier-Journa/AP
Two Iraqi nationals who came to the US as refugees have been arrested in Kentucky on charges that they conspired to provide money, weapons, and other support to Al Qaeda in Iraq, federal officials announced on Tuesday.
Waad Ramadan Alwan and Muhamad Shareef Hammadi, both of Bowling Green, have entered not guilty pleas and are being held pending a pretrial detention hearing.
They were charged in a 23-count indictment returned last week.
Mr. Alwan is accused of conspiring to kill US nationals abroad, distributing information on the manufacture and use of improvised explosive devices in Iraq, and plotting to transfer Stinger missiles to Iraq.
Mr. Hammadi is charged with attempting to provide material support to Al Qaeda in Iraq, and conspiring to transfer Stinger missiles.
"Over the course of roughly eight years, Waad Ramadan Alwan allegedly supported efforts to kill US troops in Iraq, first by participating in the construction and placement of improvised explosive devices (IEDs) in Iraq, and, more recently, by attempting to ship money and weapons from the United States to insurgents in Iraq," said Todd Hinnen, acting assistant attorney general for national security.
---