On the stand, Rod Blagojevich offers a few barbs and a lot of bluster
Prosecutors on Thursday interrogated former Illinois Gov. Rod Blagojevich for the first time during his retrial on federal charges of corruption. It was a combative hour.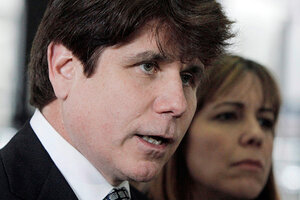 M. Spencer Green/AP/File
They only had a single hour at the end of the day Thursday, but federal prosecutors got the opportunity they've been waiting for: a chance to finally interrogate former Illinois Gov. Rod Blagojevich before a jury of his peers.
Mr. Blagojevich is in the throes of a second federal trial in which he is convicted of 17 charges related to allegations that he participated in a pay-to-play scheme for President Obama's former US Senate seat. A mistrial on all charges except one – Blagojevich was convicted last summer of lying to the FBI – resulted in this bookend trial in which, unlike the first, the former governor is taking a stand.
In his five days of recently concluded testimony conducted by his defense lawyers, Blagojevich was repeatedly reprimanded by US District Judge James Zagel for filibustering in his response to questions, a habit that is considered part of his strategy. On Thursday, for example, Blagojevich testified that he considered appointing himself to the Senate seat so he could hunt down Osama bin Laden in Afghanistan.
The more Blagojevich wanders off point and the more his outlandish statements and jokey asides keep multiplying, the easier it will become to show that the alleged scheming heard on wiretap recordings had no intentional merit, the thinking goes.
In his defense testimony, Blagojevich outlined what he said was his true intent for Mr. Obama's Senate seat: that it would go to Illinois Attorney General Lisa Madigan, the daughter of Illinois House Speaker Michael Madigan, Blagojevich's chief political nemesis. According to Blagojevich, he wanted to award Ms. Madigan the seat so her father would support his legislative agenda that was deemed unpopular at the time. He added that although he considered up to 34 people for the post, he was just about to make the decision before the day of his arrest.
---