Supreme Court demands review of ruling in anti-illegal immigration case
A federal appeals court ruled that the anti-illegal immigration laws of Hazleton, Pa., clashed with federal authority. But the Supreme Court is telling the appeals court to reconsider the case.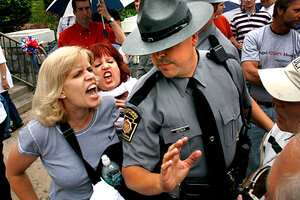 Steve Klaver/AP/File
The US Supreme Court on Monday ordered a federal appeals court to reexamine whether Hazleton, Pa., can restrict illegal immigrants' ability to work and rent housing.
A federal judge and a panel of the Third US Circuit Court of Appeals in Philadelphia had blocked the local laws, saying they clash with the careful balance struck by Congress in federal immigration statutes.
On Monday, the Supreme Court, in a summary order, vacated the Third Circuit's September 2010 decision and remanded the case for further consideration in light of the high court's May 26 opinion upholding a similar law in Arizona that punishes companies that employ illegal immigrants.
In that case, Chamber of Commerce v. Whiting, the high court ruled 5 to 3 that the Arizona law was not preempted by federal immigration statutes. The justices upheld Arizona's use of its business licensing scheme to require that employers hire only authorized immigrants or other legal workers and use the federal e-Verify system to check an immigrant's legal status.
The high court's decision in the Arizona case is providing new momentum to efforts at the state and local level to enact measures to counter perceived lax federal enforcement of immigration laws.
---