Casey Anthony trial: Internet searches for 'chloroform' take center stage
Prosecutors sought to tie Internet searches for 'chloroform' on the family computer to their theory that Casey Anthony subdued her daughter with chloroform before killing her.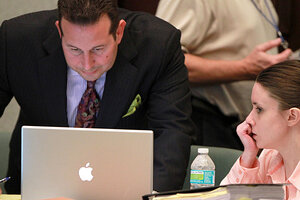 Joe Burbank/AP
Chloroform took center stage on Wednesday at the first-degree murder trial of Casey Anthony, the Florida mother accused of killing her 2-year-old daughter.
Jurors at the Orlando trial heard testimony from a computer forensics expert that he discovered Google and Wikipedia searches for "chloroform" and "How to make chloroform" on a desktop computer in the Anthony home.
The computer searches were conducted at a time when both of Ms. Anthony's parents were away at work.
The testimony is important because it supports the prosecution's theory that Anthony used chloroform to subdue her daughter, Caylee, before suffocating her by wrapping the toddler's head in duct tape. The dead child's body was then kept for a period of time in the trunk of Ms. Anthony's car, prosecutors allege.
The Internet search is also important to the prosecution's case because the searches were conducted in March 2008, roughly three months before Caylee went missing. Prosecutors will cite the chloroform search as evidence that Caylee's death was premeditated.
Anthony is charged with first degree murder. If convicted she could receive a death sentence.
Defense lawyers maintain that Caylee died accidentally in the family swimming pool and that Casey and her father, George, tried to cover up the death by making it appear a kidnapping and murder.
Caylee was missing for a month before her mother told her parents and the police. The report of her missing daughter triggered a nationwide search and hundreds of leads.
Investigators quickly shifted their efforts from a missing persons case to a homicide.
'Residue of chloroform'
Prosecutors are highlighting chloroform as a key piece of the puzzle.
---