Rod Blagojevich: bluster or bribery? Second corruption trial closes.
The second federal corruption trial of former Illinois Gov. Rod Blagojevich will likely turn on whether the jury thinks recorded statements are ramblings or evidence of an illegal scheme.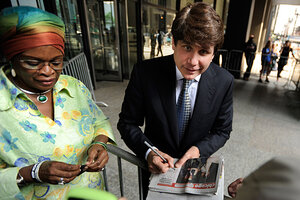 Paul Beaty/AP
Was Rod Blagojevich simply wondering out loud or did his scheming have serious intent?
That is the crux of the arguments that closed his second federal trial Thursday, a do-over following the first that ended in a deadlocked jury on all but one count. Mr. Blagojevich, the former Illinois governor, was convicted last summer on one count of 24 against him that accounted for what prosecutors described as a pay-to-play scandal involving President Obama's former US Senate seat.
In this trial, federal prosecutors simplified their case against the former governor in order to help the jury see that talking about wrongdoing was still a crime, even though money never exchanged hands and political favors never saw the light of day
In her closing argument, federal prosecutor Carrie Hamilton repeatedly referenced an analogy of a police officer seeking bribes from a motorist but receiving none, making the point that bribery still took place. Throughout the trial, Ms. Hamilton and her team sought to portray Blagojevich as a greedy public official who had contempt for his office and the public it served and who, if he weren't so bumbling, would have earned the riches he sought.
At the end of her arguments Thursday, Hamilton played a wiretap recording that featured Blagojevich calling Mr. Obama an epithet and asking his aides, in response to learning he would not benefit from appointing the seat to an Obama friend, "I just gotta suck it up for two years and do nothing?"
---