Casey Anthony murder trial focuses on 'trash' versus 'garbage'
Prosecutors and defense counsel in the Casey Anthony murder trial argue over how to describe a plastic bag of refuse found in the trunk of her car. Does it link to the body of Caylee Anthony?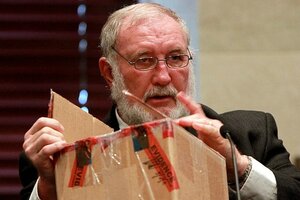 Joe Burbank/AP
Prosecutors and defense counsel in the trial of a Florida woman accused of killing her two-year-old daughter are waging a running battle over how best to describe a plastic bag of refuse found in the trunk of the mother's car.
The state attorneys office insists that it be referred to as "trash." Defense lawyers counter that the contents of the white plastic bag were "garbage."
The issue arose anew on Saturday during a special weekend session of the Casey Anthony murder trial in Orlando.
The Monitor's Weekly News Quiz for June 5-10, 2011
Prosecutors had called Dr. Neal Haskell, a forensic entomologist, to testify about maggots found on a wad of paper towels in the white plastic bag that had been left in the trunk of Ms. Anthony's car. Dr. Haskell's expertise is helping the authorities identify the time of death based on which kinds of insects are breeding and feeding on the decomposing remains of a victim.
He told the jury that as the chemical composition of a decomposing body changes, the cadre of insects attracted to the corpse changes as well. By knowing when those changes take place, an entomologist can establish a timeline that can help investigators solve a crime.
The state's theory in the case is that Ms. Anthony killed her daughter, Caylee, and then hid her body in the trunk of the car before dumping the body in a wooded area not far from the family home.
Caylee was last seen alive on June 16, 2008. Her remains were discovered six months later on December 11.
Prosecutors build circumstantial case
Prosecutors have no direct evidence that Anthony harmed her daughter. Instead, they are working to build a circumstantial case linking the toddler's decomposing body to her mother's car.
---