Casey Anthony murder trial: the case of the disappearing 'heart'
An FBI fingerprint expert testifies at the Casey Anthony murder trial that she saw, with ultraviolet light, a heart-shaped outline on duct tape that prosecutors say was used to smother little Caylee.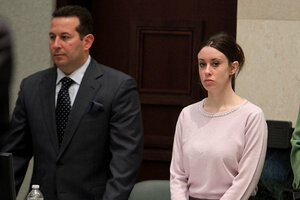 Red Huber/AP
An FBI fingerprint expert testified on Monday in an Orlando murder trial that she noticed a heart-shaped outline on a piece of duct tape that prosecutors say was used by a Florida mother to smother her 2-year-old daughter.
Elizabeth Fontaine, a forensic examiner in the Federal Bureau of Investigation's latent print unit, told the jury that she noticed the heart-shaped object while using ultraviolet light to inspect the duct tape for possible fingerprints.
"It was approximately the size of a dime," Ms. Fontaine said. She said the shape was defined by a residue outline.
"If you were to wear a band-aid for an extended period of time you have that glue and debris outline," she said. "Rather than a band-aid it is in the shape of a heart."
In a strange twist, the heart-shaped outline mysteriously disappeared from the duct tape before forensic experts were able to photograph it.
Analysts have speculated that the outline was caused by a small heart-shaped sticker. The presence of a heart-shaped sticker on the duct tape would be important because prosecutors contend that the heavy-duty tape was the murder weapon used by Casey Anthony to kill her daughter Caylee in June 2008.
Ms. Anthony is charged with first-degree murder. She allegedly drugged her daughter with chloroform, suffocated her by affixing three pieces of duct tape 6 to 8 inches long over her nose and mouth, hid the body in the trunk of her car for several days, and then dumped it in a wooded area not far from the family home.
---