Midpoint in Casey Anthony trial: Judge rejects defense motion to dismiss
The prosecution rests in the Casey Anthony trial, and the defense calls for a dismissal, saying all that has been proved is that Caylee is dead and Casey tells lies. The judge says there's enough evidence for a jury to consider.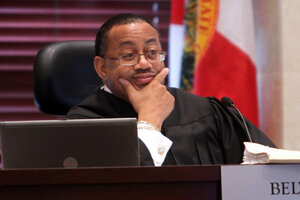 Red Huber/Reuters
After 19 days of testimony and the introduction of more than 130 pieces of evidence, state prosecutors rested their case Wednesday in the trial of Casey Anthony, a Florida mother accused of killing her two-year-old daughter.
Defense attorneys immediately attacked the quality of the state's case, urging Chief Judge Belvin Perry to dismiss murder, manslaughter, and child abuse charges against Ms. Anthony.
Defense attorney Cheney Mason told the court the state had managed to prove only two things during the past three weeks of trial – that the child, Caylee, was dead, and that his client had a history of telling lies.
What prosecutors had failed to prove, he said, was that Casey Anthony planned and carried out a premeditated murder. "In this case there is no evidence of anything other than a caring, loving, mother-child relationship," he said.
Mr. Mason made the comments during a hearing in the Orlando courtroom after the jury was dismissed for the day.
"There is no evidence to establish when the child died, other than a monthly window of possibility, where she died, how she died, who, if anyone, was with her in attendance when she died," Mr. Mason said.
"There has been in this case no evidence of premeditation," he added. "There has been a stacking of inferences, a stacking of speculation, but not evidence."
---
Follow Stories Like This
Get the Monitor stories you care about delivered to your inbox.