Supreme Court rules in Wal-Mart's favor: How the sides are reacting
A split Supreme Court ruled against 1.5 million women employees who brought a massive class-action lawsuit against Wal-Mart. After the ruling, both sides weighed in.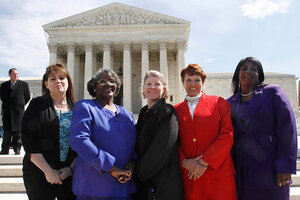 Jacquelyn Martin/AP/File
Analysts are sharply divided in their reaction to Monday's Supreme Court decision dismissing a massive class-action lawsuit charging systemic gender discrimination at Wal-Mart.
Critics denounced it as a step backward in the cause for women's rights that will make it harder for victims of discrimination to band together to seek justice in the courts.
Supporters praised the action as a clear affirmation of established rules for class-action lawsuits that will help protect large employers from legal tactics designed to win lucrative settlements.
The high court ruled 5 to 4 to dismiss a class action suit filed on behalf of 1.5 million female employees who charged they were subject to unequal pay and promotion practices at the retail giant. The suit potentially sought back pay and other damages totaling in the billions of dollars.
"Today's Supreme Court decision sets back equality for women and for all Americans in the workplace and in our society," House Democratic leader Nancy Pelosi said in a statement from Congress. "It will make it more difficult for workers to come together to fight claims of gender discrimination."
"This is another example of the Supreme Court siding with large corporations to limit access to the courts for individuals seeking justice," said Wade Henderson of the Leadership Conference on Civil and Human Rights.
"Those without means to hire an attorney or pursue a claim rely on class-action lawsuits to level the playing field and change the policies and practices of elite corporations," he said. "The court's sharply divided ruling has made it more difficult for these individuals."
---