Rod Blagojevich found guilty on 17 counts. Is it a turning point for Illinois?
In a retrial, Rod Blagojevich is convicted of corruption stemming from the sale of President Obama's seat in the US Senate. The former Illinois governor says he's 'stunned.'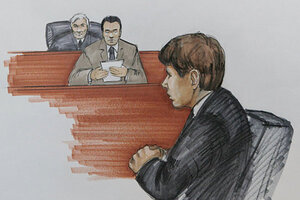 Tom Gianni/AP
A federal jury convicted former Illinois Gov. Rod Blagojevich of corruption stemming from the sale of President Obama's Senate seat, finding him guilty Monday of 17 of the 20 counts against him.
The verdict concluded a second federal trial that made the national spotlight for its moments of high drama and comic absurdity.
Outside the federal court building in downtown Chicago Monday afternoon, Mr. Blagojevich said he was "stunned" at the verdict.
"There's not much left to say other than we want to get home to our little girls and talk to them and explain things to them and try to sort things out," he said.
Among the convictions of wire fraud, attempted extortion, bribery, the conspiracy to commit extortion and the conspiracy to commit bribery, 11 had to do with the sale of the US Senate seat held by Mr. Obama prior to his election as president in 2008.
The jury deadlocked on two counts of attempted extortion involving the solicitation of a construction executive. Blagojevich was found not guilty on a bribery count involving the same case.
Jurors took 10 days to reach the verdict, which is four days less than in the first trial last summer, which resulted in a hung jury on all but one charge: lying to the FBI. The slightly trimmed response time is likely due to the nature of the prosecution's case, which involved fewer charges and a redesigned strategy that emphasized that even though Blagojevich may not have benefited from the scheming heard on wiretapped recordings, his actions constituted wrongdoing.
---