Rod Blagojevich: As he contemplates jury's message, the bluster is gone
Before his second trial, Rod Blagojevich cast himself alternately as an amiable populist or a political warrior. But now convicted on 17 counts, the former governor is somber and pensive.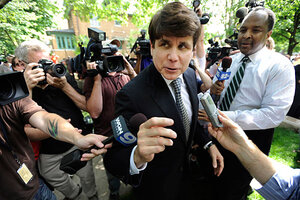 Paul Beaty/AP
In the two years and seven months between Rod Blagojevich's arrest on his front lawn in Chicago and Monday's jury verdict convicting him of 17 counts of wire fraud, extortion, and bribery, the former Illinois governor was alternately an amiable populist stumping for public empathy or a fierce political warrior, launching verbal missiles at perceived enemies.
But Tuesday morning, confronted with the possibility of facing his twilight years in federal prison, Mr. Blagojevich was unusually somber.
"A lot of what life is, is how you deal with adversities … it's a true test of who you are and it's an example to your children on how you deal with the tough times," he told reporters outside his Chicago home. "Through that adversity and hardship can come good things."
His reflective approach will be put to the test Aug. 1, the day US District Judge James Zagel starts sentencing arguments, giving Blagojevich a chance to seek mercy and reduce his prison term.
Almost every count carries a prison term of 20 years and $250,000 in fines, although most experts agree it is unlikely the maximum will be enforced. It also is likely some terms will be served concurrently. In his first trial, Blagojevich was also found guilty of lying to the Federal Bureau of Investigation.
Whatever the details of the sentencing, Blagojevich faces a lifetime of figuring out whether his testimony in his second trial, which ran for seven days and allowed the former governor to tap his expert campaign skills, helped or hindered the jury's decision.
---