Casey Anthony murder trial: Has the defendant displayed grief?
An expert called by the defense in the Casey Anthony murder trial sought to explain how a young mother might grieve the loss of her child. The defendant, listening, began to cry.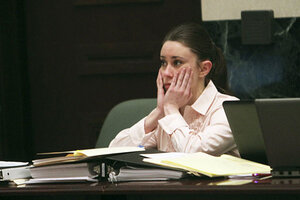 Red Huber/AP
Jurors at the Casey Anthony murder trial heard testimony on Wednesday from a grief expert who was called by defense attorneys to try to explain how a young mother might respond to the death of her child by partying at bars, getting a tattoo, renting movies, and going on shopping excursions.
Sally Karioth, a professor at Florida State University, said no two people grieve in exactly the same way. She said young adults, like Ms. Anthony, can sometimes be "reluctant grievers."
The testimony came on the 31st day of the Orlando trial of the Florida mother accused of killing her two-year-old daughter, Caylee. If convicted, Ms. Anthony could face the death penalty.
The testimony is important because it sought to address one of the most perplexing questions raised in the Anthony case. How could a young mother fail to tell her family, friends, and the police about her dead or missing child for 31 days while she partied with friends and acted as if nothing was wrong?
To set up Professor Karioth's testimony, Defense Attorney Dorothy Sims presented an elaborate hypothetical example which was actually a detailed description of certain factors in Casey Anthony's life as viewed under the defense theory of the case.
The woman in the hypothetical case was described as a 22-year-old mother of a young child who had a loving bond with the toddler. The woman also lives at home with her parents, who resisted the reality of her unwed pregnancy. Also living in the house was an older brother who was angry for being excluded from any discussion of the pregnancy.
---