Casey Anthony trial: Records undercut mother's testimony on Internet search
The prosecution in the Casey Anthony trial introduced records from Cindy Anthony's employer indicating she was not the one using the home computer to search for information on chloroform.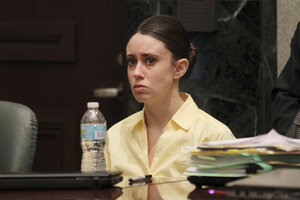 Red Huber/AP
Casey Anthony's mother could not have performed home computer searches for "chloroform" on the dates and times she suggested in testimony last week, according to records introduced by prosecutors on Friday at the Casey Anthony murder trial.
The disclosure completely undercuts Cindy Anthony's surprising testimony on June 23 that it was she – not her daughter – who conducted Internet searches for chloroform on the family's home computer in March 2008.
The dramatic reversal came as prosecutors concluded their rebuttal case, bringing the evidence and testimony portion of the month-long trial to a formal end. Chief Judge Belvin Perry said closing arguments would begin Sunday morning.
Mrs. Anthony's earlier testimony was important because prosecutors allege that Casey Anthony used chloroform to subdue her two-year-old daughter, Caylee, before pressing pieces of duct tape over the toddler's mouth and nose to suffocate her.
Many analysts had speculated that Cindy Anthony was shading the truth – and risking a potential perjury charge – in an effort to create reasonable doubt in the minds of the jurors and save her daughter from a spot on Florida's death row.
Assistant State Attorney Linda Burdick had questioned how Mrs. Anthony could be home in the middle of the afternoon when payroll records from her employer showed that she had been at work when the Internet searches were conducted.
Mrs. Anthony said that, as a salaried employee who often worked overtime without pay, she had the freedom to go home early although her pay records would reflect a full day at work.
---