Why chambermaid's credibility is so germane in Strauss-Kahn case
In sexual assault cases, like the one against ex-IMF chief Dominique Strauss-Kahn, outcomes often hang on the credibility of the accusers, who usually must testify, say legal experts.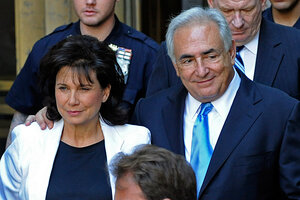 Louis Lanzano/AP
Dominique Strauss-Kahn, accused of sexual assault of a maid at a New York hotel, can forget about the electronic ankle bracelet and the costly home confinement. He's now free to walk the streets of Manhattan. He just has to agree to show up for trial – if the case ever gets that far.
The dramatic change in Mr. Strauss-Kahn's circumstances – he was in a Rikers Island jail cell only six weeks ago – is because Manhattan District Attorney Cyrus Vance now has doubts about his own case, which is still under investigation, say independent attorneys.
The reason for the doubts: witness credibility, namely the accuser's.
The hotel maid who accused the French politician and former chief of the International Monetary Fund of attacking her lied to prosecutors and detectives about her background and her actions on the day of the alleged assault, according to the District Attorney's office. In addition, on the day after the alleged attack, she was tape-recorded discussing with a prison inmate the possible financial benefits of pursuing the charges, according to news reports.
---