'Caylee's Law' petition drive: Do missing child laws need to change?
'Caylee's Law' petition calls for establishing two new federal offenses: failure of a parent to notify authorities of a missing child within 24 hours and failure to report a child's death within one hour. The online drive comes amid public anger over the Casey Anthony verdict.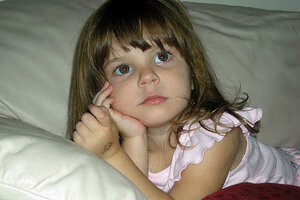 Orange County Sheriff's Office/AP/File
One of the most unfathomable aspects of the just-concluded Casey Anthony murder trial was that no one reported 2-year-old Caylee Anthony missing, or dead, until a month after the child's disappearance. That's something that Michelle Crowder has set out to discourage in the future – by making "failure to report" a federal crime.
Ms. Crowder, of Durant, Okla., has created a "Caylee's Law" petition, which is circulating online at Change.org, a social change platform. The petition had collected more than 475,000 online signatures by Thursday afternoon, two days after a Florida jury acquitted Ms. Anthony of charges, including capital murder, that she was responsible for Caylee's death.
The Caylee's Law petition calls for establishing two new federal offenses: the failure of a parent, legal guardian, or caretaker to notify law enforcement of a missing child within 24 hours, and the failure to report the death of a child within one hour of discovery.
"The case of Caylee Anthony was tragic, and there is no reason for another case like this one to hit the courts," Crowder writes in the petition letter. "Let's do what is necessary to prevent another case like this from happening."
The petition coincides with a burst of public outrage over the outcome of the Casey Anthony trial. Anthony, Caylee's mother, was convicted of four misdemeanor counts of lying to police and will be released from jail July 13.
---