Texas executes Mexican citizen despite pleas from Obama, UN
Convicted of murdering a 16-year-old girl in 1994, Mexican national Humberto Leal was executed despite White House concerns that US citizens abroad could face harsher punishments as a result.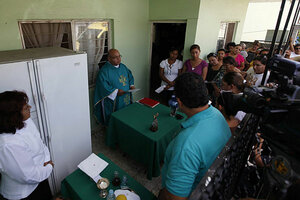 Tomas Bravo/Reuters
The state of Texas on Tuesday evening executed convicted murderer Humberto Leal, a Mexican who was brought to the US as a toddler, despite pleas from the White House, Mexico, and the United Nations to forestall the ultimate sanction.
A short time earlier, the US Supreme Court refused to order a stay of execution with a 5-to-4 vote.
The case has drawn international attention because of Mr. Leal's Mexican nationality. The White House requested a stay in part because it worried that, because of the execution, Americans could expect harsher treatment if they run afoul of the law abroad. "This case implicates United States foreign policy interests of the highest order," Solicitor General Donald Verrilli Jr. said.
Leal was convicted in 1994 for the brutal rape and murder of a 16-year-old girl, but his lawyers contend that he was never informed he could get consular help after his arrest, as the Vienna Convention demands. The US is a signatory to the treaty, but the US Supreme Court found in 2008 that only Congress could mandate that states are bound to the treaty. Though bills to that effect have been introduced each year since that ruling, Congress has not approved such a law.
"If you commit the most heinous of crimes in Texas, you can expect to face the ultimate penalty under our laws," Katherine Cesinger, spokeswoman for the Gov. Rick Perry, told CNN. "Congress has had the opportunity to consider and pass legislation for the federal courts' review of such cases since 2008, and has not done so each time a bill was filed."
---
Follow Stories Like This
Get the Monitor stories you care about delivered to your inbox.