Bush should face criminal probe over post-9/11 'torture,' report urges
Human Rights Watch urges a criminal investigation of former President Bush, Vice President Cheney, and two others over their alleged authorization of torture of terrorism suspects after 9/11. The Obama administration has narrowed its probe to the deaths of two men in CIA custody.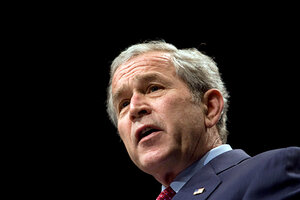 Evan Vucci/AP/File
Former President George W. Bush, as well as his vice president, Defense secretary, and CIA director should all face a criminal investigation for their alleged authorization of torture and other war crimes during their tenure in office following the 9/11 attacks in 2001, according to a report issued on Tuesday by Human Rights Watch.
In addition to authorizing "waterboarding" and other harsh interrogation tactics, the four men also approved the use of secret CIA prisons overseas and the transfer of terrorism suspects to countries where they were allegedly tortured, the report says.
The human rights group is urging the Obama administration to conduct a broad investigation into how the policies were drafted, adopted, and carried out. The group wants the Obama administration to hold President Bush and other top officials in his administration accountable for what it says were acts of torture and other illegal treatment of detainees in violation of the international Convention against Torture and US law.
"The US has a legal obligation to investigate these crimes," Kenneth Roth, executive director of Human Rights Watch, said in a statement released with the report. "If the US doesn't act on them, other countries should."
Two weeks ago, US Attorney General Eric Holder announced the results of a two-year Justice Department preliminary review of whether CIA personnel violated federal laws while interrogating terrorism suspects overseas. Mr. Holder said the department would launch a full criminal investigation into the deaths of two men while in CIA custody.
---