More illegal immigrants deported for traffic offenses. Problem for Obama?
US deported a record number of illegal immigrants for drunken driving and other traffic violations in 2010. The trend makes immigrant advocates furious and the get-tough crowd suspicious.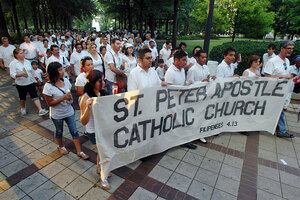 Jay Reeves/AP
The US notched a record number of deportations of illegal immigrants in 2010, according to an analysis of government statistics, with the spike driven primarily by increased deportations of people stopped for drunken driving and other traffic violations.
Drunken driving incidents involving illegal immigrants are known to inflame public anger over border security, and the Obama administration's deportation crackdown could be seen as a practical, and potentially popular, response to a public safety issue.
But news of the traffic-related deportations also highlights a political problem for the administration. It risks loss of Hispanics' support for Democrats, even as it seems to do little to persuade those on the right, who insist that President Obama is bent on letting most illegal immigrants off the hook in anticipation of a national amnesty program, that the administration is serious about immigration enforcement.
"This is the strange world of immigration policy that we're in right now, where everyone is building their own narrative of how these things fit together," says Noah Pickus, co-director of the Brookings-Duke Immigration Policy Roundtable, in Durham, N.C. "For some, the idea that the Obama administration is taking a traffic violation, and driving immigration policy through that, is too much. On the other hand, the notion that we should use a lot more discretion and focus more on [immigrant] criminals is precisely what's too little for others."
---
Follow Stories Like This
Get the Monitor stories you care about delivered to your inbox.