Casey Anthony: Did she serve probation for previous crime or not?
In 2010, a judge ordered that Casey Anthony complete one year of probation for writing fraudulent checks. Now, it's unclear whether she satisfied that requirement while awaiting her murder trial in jail or whether she needs to serve one more year of probation.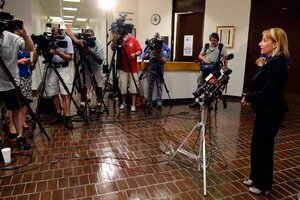 Phelan M. Ebenhack/REUTERS
Casey Anthony, the Florida mother acquitted last month of involvement in the death of her 2-year-old daughter, does not have to return to Orlando on Thursday to report to a probation officer.
A Florida judge on Wednesday stayed an earlier order that would have required Ms. Anthony's presence at the probation department by 10 a.m. Thursday.
Instead, Chief Judge Belvin Perry will conduct a hearing on Friday morning to determine whether Ms. Anthony will be required to serve an additional one year of probation now that she had been released from the Orange County Jail.
Anthony is not required to attend the Friday hearing either.
The dispute arose last week when the judge who handled Anthony's 2010 guilty plea for writing fraudulent checks discovered that the probation department had conducted her one-year supervised probation at the jail while she was still being detained pretrial for her upcoming murder trial.
Anthony was sentenced in January 2010 by Judge Stan Strickland to serve 412 days in the county jail in the fraudulent check case. She was given credit for time served since she was already being detained on the murder charge. But Judge Strickland also ordered that Anthony complete one year of supervised probation "once released."
---