Is 'Uncle L.D.' the notorious skyjacker D.B. Cooper? Experts are skeptical.
Two Oklahoma women claim their late relative, Lynn Doyle Cooper, is the real 'D.B. Cooper,' who plotted a hijack heist on Thanksgiving Day 1971, the only unsolved skyjacking in US history.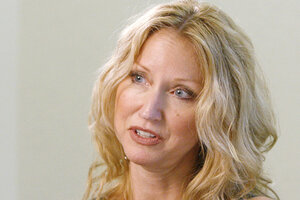 Sue Ogrocki / AP
Could the famed skyjacker D.B. Cooper – who pulled off an audacious 10,000-foot heist on Thanksgiving Day 1971, securing his crown as the king of American folk-hero outlaws – be the man his family knew as "Uncle L.D.," a logger and Korean war veteran?
A new name – Lynn Doyle Cooper – has now been tied to the 1971 hijacking over Washington State, where a man in a suit and a JCPenney clip-on tie managed to jump out of a Boeing 727 with $200,000 ransom. The claim is meeting skepticism from the sizable community of amateur sleuths still hunting for the daredevil outlaw. It's only the latest in literally over 1,000 possible leads, most of them, the FBI has said, "junky."
"Uncle L.D. is so far just Uncle L.D.," says author Geoffrey Gray, who dug through troves of FBI files about the case to write the upcoming book, "Skyjack: The hunt for D.B. Cooper." He adds, "I think it's compelling that people want to come forward with suspects and want the case solved, but you have to have some evidence beyond memories and second-hand information."
What the FBI needs, he says, is "a forensic miracle."
---
Follow Stories Like This
Get the Monitor stories you care about delivered to your inbox.