Police guilty in post-Katrina bridge shootings. 'Healing' for New Orleans?
A jury on Friday convicted five current and former New Orleans police officers in connection with a shooting on the Danziger Bridge six days after hurricane Katrina, killing two unarmed residents.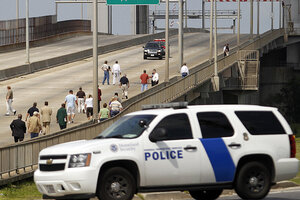 Michael DeMocker/The Times-Picayune/AP
At the time, the New Orleans Police Department saw the shootings at the Danziger Bridge as a turning point in its attempt to recapture the city from criminals running amok amid the confusion after hurricane Katrina struck on Aug. 29, 2005.
Nearly six years later, the convictions of five current and former police officers for their actions on the Danziger Bridge – and their attempts to cover them up – mark the latest chapter in the city's efforts to bring the heartbreak of Katrina to a close.
"This was a critical verdict. I cannot overstate the importance of this verdict. The power, the message it sends to the community, the healing power it has," Jim Letten, the prosecuting US attorney, said after the verdict was announced Friday.
The federal convictions on civil rights and obstruction charges for the five officers – Sgt. Kenneth Bowen, Sgt. Robert Gisevius, Officer Anthony Villavaso, retired Sgt. Arthur Kaufman, and former Officer Robert Faulcon – represent a victory for the US Justice Department, which is engaged in a massive effort to clean up the historically corrupt New Orleans Police Department. It's the third of nine separate US civil rights probes into post-Katrina police action to go to trial, with all three producing convictions.
---