Facebook 'Spam King' allegedly broke into a half million user accounts
Sanford Wallace, the so-called 'Spam King,' faces federal fraud charges for allegedly luring Facebook users to third-party websites that collected personal information for spam lists. He's already been convicted of compromising Facebook servers once before.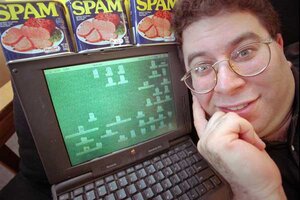 Dan Loh/AP/File
A Las Vegas man faces 11 federal criminal counts related to 27 million unsolicited spam messages authorities say he launched via Facebook servers. Sanford Wallace received "substantial revenue" for the scheme, which involved compromising the accounts of nearly 500,000 users of the popular social network, according to the Federal Bureau of Investigation.
Mr. Wallace turned himself into authorities Thursday. He pleaded not guilty and is free on a $100,000 unsecured bond. He faces more than 40 years in prison.
According to the indictment filed in San Jose, Calif., Wallace manipulated Facebook servers to send users bogus messages from unsuspecting friends, encouraging them to visit third party websites. Once users clicked on the links, their information was exposed and collected, including friend lists, which allowed the spam manipulation to spread widely.
The operation took place between November 2008 and March 2009, prosecutors said.
---