Three deaths in one weekend puts Taser use by cops in crosshairs
Tasers were involved in three deaths over the weekend, renewing the debate over when and how the police-issued stun guns should be used.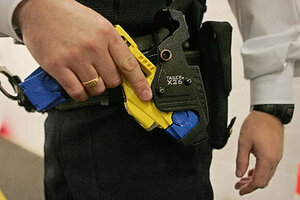 Carl de Souza / AFP / Newscom / File
A naked man on drugs died in Wisconsin this weekend, after police used a Taser stun gun to subdue him. A student died at the University of Cincinnati after balling his fists and getting tasered by police. A man high on drugs in Manassas, Va., also died this weekend after police tasered him as he escaped, partially handcuffed, after punching an officer and a firefighter.
All three deaths are being investigated. One of the departments, the University of Cincinnati Police Department, has suspended the use of Tasers by its officers.
About 15,000 US police departments, including 29 of the nation's 33 largest cities, use a total of 260,000 Tasers. The devices have been the objects of controversy since first being deployed broadly in the 1990s. Some describe them as an alternative to the nightstick that reduces officer injuries and saves lives. Others see the stun guns as instruments of torture whose growing use make them a symbol of reckless policing.
In some cases, the Tasers are only tangentially related or unrelated to the actual cause of death, and that may be the case in the three incidents from this weekend. But recent studies have shown that the weapons can have an outsized impact on people with health problems or who are very high on drugs and in a state of "excited delirium."
Tasers contributed to some 351 US deaths between 2001 and 2008, says Amnesty International, which adds that 90 percent of those tasered were unarmed at the time they were electrocuted. The website Truth Not Tasers claims that 39 people have died in relation to "conducted energy devices (CEDs)" this year in the United States, an average of five per month.
---