'Kids for cash' judge sentenced to 28 years for racketeering scheme
A Pennsylvania judge was sentenced Thursday for his part in what prosecutors called a 'kids for cash' scheme that sent juvenile offenders to privately run detention facilities in return for kickbacks.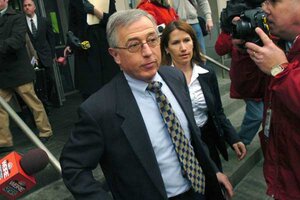 David Kidwell/AP/File
A former juvenile court judge in Pennsylvania was sentenced to 28 years in prison on Thursday for his part in an alleged "kids for cash" scam considered one of the worst judicial scandals in US history.
Mark Ciavarella Jr., 61, a former judge in Luzerne County, was also ordered to pay $1.17 million in restitution.
Mr. Ciavarella was convicted in federal court in Scranton, Pa., in February on charges that he and a second judge, Michael Conahan, ran the local court system as a racketeering enterprise.
The federal indictment says the two judges accepted $2.8 million in kickbacks from the owner and builder of two privately-run juvenile detention facilities. In exchange, the judges agreed to close down the county's own juvenile detention center, which would have competed with the new, privately-run facilities. In addition they guaranteed that juvenile offenders from their court would be directed to the privately-run facilities.
Mr. Conahan, pleaded guilty last year to a single count of racketeering and is awaiting sentencing.
In comments to the court, Ciavarella apologized to the community and to the children whose cases he had adjudicated. "I blame no one but myself for what happened," he said, according to the Associated Press.
---