BART puts social media crackdown in 'uncharted' legal territory
The decision by BART officials to cut cellphone service Thursday – denying train-riding protesters access to social media – raises deep legal questions, analysts say.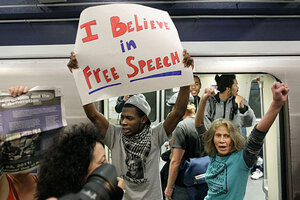 Jeff Chiu/AP
Ongoing clashes between the Bay Area Rapid Transit authority and protesters rallying against the shooting death of a homeless man by BART police July 3 are raising new questions about where society can draw the line between free speech and public safety in a high-tech world.
Several legal analysts say the case could raise legal conflicts that could be resolved only by the US Supreme Court.
The dispute centers on a decision by BART officials to shut down cellphone service last Thursday to prevent a planned protest. The protesters were expected to rely heavily on smartphones to organize the rally via social media. The decision thwarted the protest and drew criticism from free-speech activists as well as Anonymous, the loosely knit band of online hackers that broke into a BART website in retaliation.
BART officials chose not to cut cellphone service during a Monday protest, which led police and transit officials to shut down four BART stations during evening rush hour. The previous decision lingers, however.
"This is loaded with legal issues that could go one way in a district court and another in a circuit court, but the US Supreme Court is the only one that can really clarify them definitively," says Jesse Choper, a constitutional law professor at the Boalt Hall School of Law at University of California, Berkeley. "Both sides will have lots of ways to articulate their cases, and it will be compelling to see where it all leads. This is substantially uncharted territory."
---