Obama deportation policy could be 'nightmare' for law enforcement
The Obama administration says its new deportation policy will focus only on the worst criminals, not college kids and maids. But that could make the jobs of law enforcement – from local cops to federal agents – much more complicated.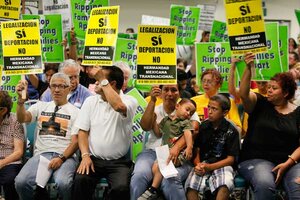 Damian Dovarganes/AP
Sheriff Neil Warren, dubbed "Wild West Warren" by pro-immigration groups, has racked up nearly 15,000 immigration-related arrests in Cobb Country north of Atlanta. A new deportation policy announced Thursday by the Department of Homeland Security could mean that many of those arrested by Mr. Warren may not only get out of jail, but could go back to Cobb County with a legal work visa in hand.
Responding to criticism that the US deportation net has been cast too wide – sweeping up college kids, grandparents, and other noncriminal illegals – the Obama administration on Thursday formalized new rules that could mean release for many of the 300,000 people currently facing deportation in the US. Its goal will be to focus on deporting only the worst and most hardened criminals.
The move centers on prosecutorial discretion, with the Obama administration deciding whom it will and won't deport. Clearly, the shift has political ramifications, with Latino groups lauding the decision and conservative critics calling it a backdoor "administrative amnesty."
But perhaps more important to Main Street America is the question of how the new policy will affect police departments, primarily in the West and Southeast. Many of these departments have used federal programs as a means to arrest every illegal immigrant they come across. Now, the Department of Homeland Security's announcement introduces new uncertainty about whether many of those arrested will simply be sent back.
---