West Memphis Three: Who are they, and how did they become a cause célèbre?
West Memphis Three members, convicted in 1994 of killing three Boy Scouts, could go free Friday, news reports suggest. The men of the West Memphis Three have drawn support from actor Johnny Depp, among other famous personalities.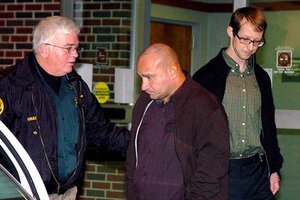 James Byard/The Jonesboro Sun/AP/File
The West Memphis Three case, which has become a cause célèbre for a handful of prominent American actors and musicians, could be coming to an abrupt and unexpected conclusion.
On Thursday, Craighead County Circuit Judge David Laser renewed hopes that the three may be released after he called a surprise hearing for Friday morning in Jonesboro, Ark. News reports suggest that the three may be released Friday under an "Alford plea," in which the three actively claim innocence, but will plead guilty for freedom in exchange for time already served.
Damien Echols is on death row and Jason Baldwin and Jessie Misskelley Jr. are serving life sentences after being convicted in 1994 of killing three 8-year-old Cub Scouts in West Memphis, Ark.
The gruesome murders, which were described as satanic by police, shocked the small eastern Arkansas town. But lingering doubt over whether the West Memphis Three were guilty resulted in campaigns by celebrities to have the men freed.
Those doubts were strengthened last month, when a status report on new DNA evidence was filed in Craighead County Circuit Court. It failed to link the crimes to the men convicted in the murders. An evidentiary hearing was scheduled to start in December.
Attention at the original trial centered on Mr. Echols, then 18, who wore black clothing, dyed his hair black, read vampire books, and listened to heavy-metal music. He was often questioned by police about satanism.
---