West Memphis Three now must learn how to live as free men
Damien Echols, Jason Misskelley, and Jason Baldwin – the West Memphis Three – have spent half their lives in prison. Now, they must learn how to reenter society as free men.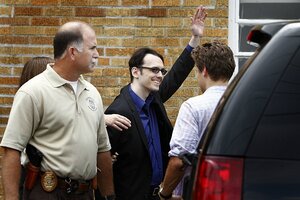 Newscom
Life seldom plays out like a movie. But for the West Memphis Three, it did.
The lives of the three men convicted of the 1993 brutal killings of three young Cub Scouts in Arkansas shifted dramatically this week.
On Monday, Damien Echols sat on death row while Jason Misskelley and Jason Baldwin each faced life without parole sentences. By Friday afternoon, they were free men with no restrictions on travel and undefined futures after 18 years behind bars.
At a hearing in Jonesboro, Ark., Friday morning, the trio agreed to a legal maneuver that allowed them to maintain their innocence while acknowledging that prosecutors had enough evidence against them to find guilt. Important questions had been raised about crime scene evidence and conduct of the trial. They were sentenced to time served and immediately released.
But such a startling change in circumstances could have dire effects on the three men locked up as teenagers and now in their mid-30s. They've spent half their lives in prison, missing out on the presidencies of Bill Clinton and George W. Bush, the rise of Twitter and Facebook, wars in Iraq and Afghanistan, the election of the first black president, and the creation of reality TV.
---