What makes a native American tribe?
Small groups of native Americans are still looking for tribal recognition from the federal government.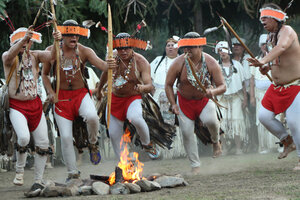 Marc Dadigan
On a wet January night in northern California, Caleen Sisk-Franco gathered the Winnemem Wintu tribe for a healing in their prayer house, the sacred fire casting its walls with ocher shadow. Smoke from Ms. Sisk-Franco's pipe curled past her patient, a melancholy teenage boy from the neighboring Hoopa Valley Reservation.
As the tribe sang their song for lost little ones, Sisk-Franco, sensing the boy was nervous, took an eagle-feather fan from her doctoring chest and undulated it around his body. She then retreated into the shadows.
"There was the presence of your mom, trying to watch over you," Sisk-Franco said. "She's not around, but she wants you to know she cares about you.
"Where is your mom?" she asked. His teary gaze focused on the fire. "She died. A year ago."
Sisk-Franco is the spiritual leader and chief of the Winnemem Wintu, a small traditional native American tribe of 123 people, and she is also a well-known Indian doctor, or shaman. But one of Sisk-Franco's spiritual doctoring tools is technically illegal. This March, the US Fish and Wildlife Service revoked her right to possess eagle feathers because her tribe isn't recognized by federal authorities.
For thousands of years, the Win­ne­mem Wintu have practiced their culture among the sentinel pines and glacial waters of the McCloud River watershed, but that history is legally moot because they don't appear on the Bureau of Indian Affairs (BIA) list of recognized tribes.
---