Alabama judge casts doubt on harsh new illegal immigration law
A federal court judge in Alabama Wednesday raised questions about whether a recent state law restricting illegal immigration has constitutional merit.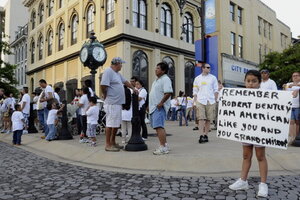 Amanda Sowards/Montgomery Advertiser/AP
A federal court hearing in Alabama Wednesday will determine whether or not a recent state law restricting illegal immigration has constitutional merit. Although the judge has until next week to strike down provisions of the law, critics say the legislation may drive undocumented workers to neighboring states.
Proponents of the law say that illegal immigrants to the state – whose numbers have increased dramatically over the last 10 years – are taking precious jobs away from legal residents.
In June, Alabama Gov. Robert Bentley (R) signed into law what is by some measures the harshest anti-immigration bill in the nation. For example, birth certificates or other papers showing legal resident status will now be required at government agencies and from parents seeking to enroll their children in public schools.
Law enforcement can detain people suspected of entering the country illegally if they do not produce proof of residency and employers or individuals face penalties if they knowingly transport, harbor, or hire illegal immigrants.
Wednesday's hearing, held in federal court in Birmingham, is the result of numerous lawsuits collectively launched by the Obama administration, national civil rights groups, and state church leaders seeking to block the new law, which goes into effect Sept. 1.
US District Judge Sharon Blackburn said in court Wednesday that she believed "there are a lot of problems" with the statute, but that she would only hear arguments that framed the debate by its legality, opposed to its supposed moral or political merits.
---