Casey Anthony ordered to reimburse state $97,000. How that still could rise.
Casey Anthony judge rejects a demand by prosecutors that more than $500,000 in investigative and prosecution costs be reimbursed. But he gives the sheriff's office a chance to revise its expenses.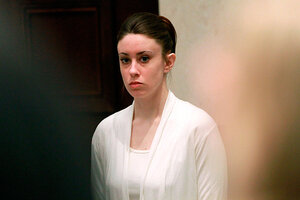 Joe Burbank/Reuters/File
Casey Anthony, the Florida mother acquitted of involvement in the death of her two-year-old daughter, was ordered on Thursday to pay more than $97,000 to law enforcement agencies as compensation for their efforts to find the missing child.
Chief Circuit Judge Belvin Perry rejected a demand by the State Attorney's Office that Ms. Anthony be forced to pay more than $500,000 in investigative and prosecution costs.
Instead, the judge said he would assess costs only related to the missing persons portion of the investigation, when investigators believed Caylee Anthony might still be alive.
However he did leave the door open for the Orange County Sheriff's Office to revise upward its reported costs for the 30 sheriff's office employees who worked on that portion of the investigation.
At Ms. Anthony's month-long trial, Defense Attorney Jose Baez revealed that Caylee had been dead a full month before police were notified in July 2008 that she was missing. He told the jury that the toddler had accidentally drowned in the family's swimming pool and Anthony panicked and tried to cover the death up rather than notify the authorities. The toddler's skeletal remains were found in December 2008 in a wooded area a quarter mile from the Anthony home.
---